A LEADERSHIP TALE ABOUT THE CHALLENGING PATH TO BECOMING AN EFFECTIVE LEADER
"In this little book, you will find the tools necessary to enhance your leadership journey."
—Howard Behar, former president of Starbucks International
PRAISE FOR THE LEADERSHIP HOUSE
"Great storytelling alongside with the simultaneous communication of facts. In this book, the essentials of leadership are impressively presented in an unusual and memorable setting."
—Gisbert Rühl, former CEO of Klöckner & Co SE

"Most leadership books are either too theoretic, esoteric, or complex—or all of the above. The Leadership House stands out. It conveys how to lead effectively, wrapped in an inspiring story full of leadership wisdom and actionable insights. This book is not only fun to read, but makes you learn how to lead with ease. Highly recommended for any leader and all who wish to become one."
—Matthias Heutger, Senior Vice President, Global Head of Innovation & Commercial Development at DHL Group


"A wonderful story about leadership. In this little book, you will find the tools necessary to enhance your leadership journey. Thanks Patrick for giving us such a gift."
—Howard Behar, former president of Starbucks International

"Patrick Flesner addresses the dimensions of leadership in a very situational and realistic manner. This book is a powerful guide for becoming aware of your own leadership skills and development potential."
—Oliver Kaltner, former CEO of Leica Camera AG

"An extremely realistic story that will capture your attention. It provides actionable experience in a simple format for every leader."
—Dr. Carsten Voigtländer, former CEO of Vaillant Group


"This book provides a great foundation and framework around leadership. It covers all grounds of leadership and is a useful guide to personally develop into an effective leader. Especially startup executives will find valuable leadership insights about how to successfully drive start up companies into scale."
—Joerg Jung, CEO Cyncly (formerly Compusoft & 2020 Technology Group).
THE LEADERSHIP HOUSE STORY

With this leadership story, Patrick sweeps away leadership myths and shares a leadership development framework that leaders at all levels can apply to become highly effective leaders. Reading this book will help founders, entrepreneurs, managers, and leaders successfully climb the leadership ladder and become the leaders they want to be—leaders who lead effectively and with ease.

After the bestselling high-growth handbook for founders 'FastScaling: The Smart Path to Building Massively Valuable Businesses', this is the first book Patrick has written purely about leadership.
WHO THIS LEADERSHIP BOOK IS FOR
Whether you're a founder, an entrepreneur, a CEO, a senior executive, or a manager who's just been promoted into a leadership position, your success will depend on others. If you cannot lead people, groups, and organizations effectively, your teams will fail—and you will fail as a leader. In contrast, if you know how to transform a set of strong individuals into a thriving, cohesive team, the sky is the limit. If you know how to lead effectively, you will achieve the extraordinary.

Wherever you are on your particular walk of life, in your career, and in your organization, if you are interested in leadership or want to become a better, highly effective leader, this leadership book is for you. Reading this leadership story will not only be fun. You will also learn how the Leadership House Framework can help you become an effective leader who leads with ease.
YOU WILL READ A GREAT LEADERSHIP STORY AND LEARN
- How to become an effective leader
- How to create a strong team
- How to become a strong team leader
- Why teamwork is the secret sauce of successful teams
- How to create a team culture in which teams thrive
- How to create trust
- Why psychological safety drives team success
- How to turn followers into leaders
- How to empower team members
- How to overcome typical leadership challenges
- And much, much more about effective leadership and leading teams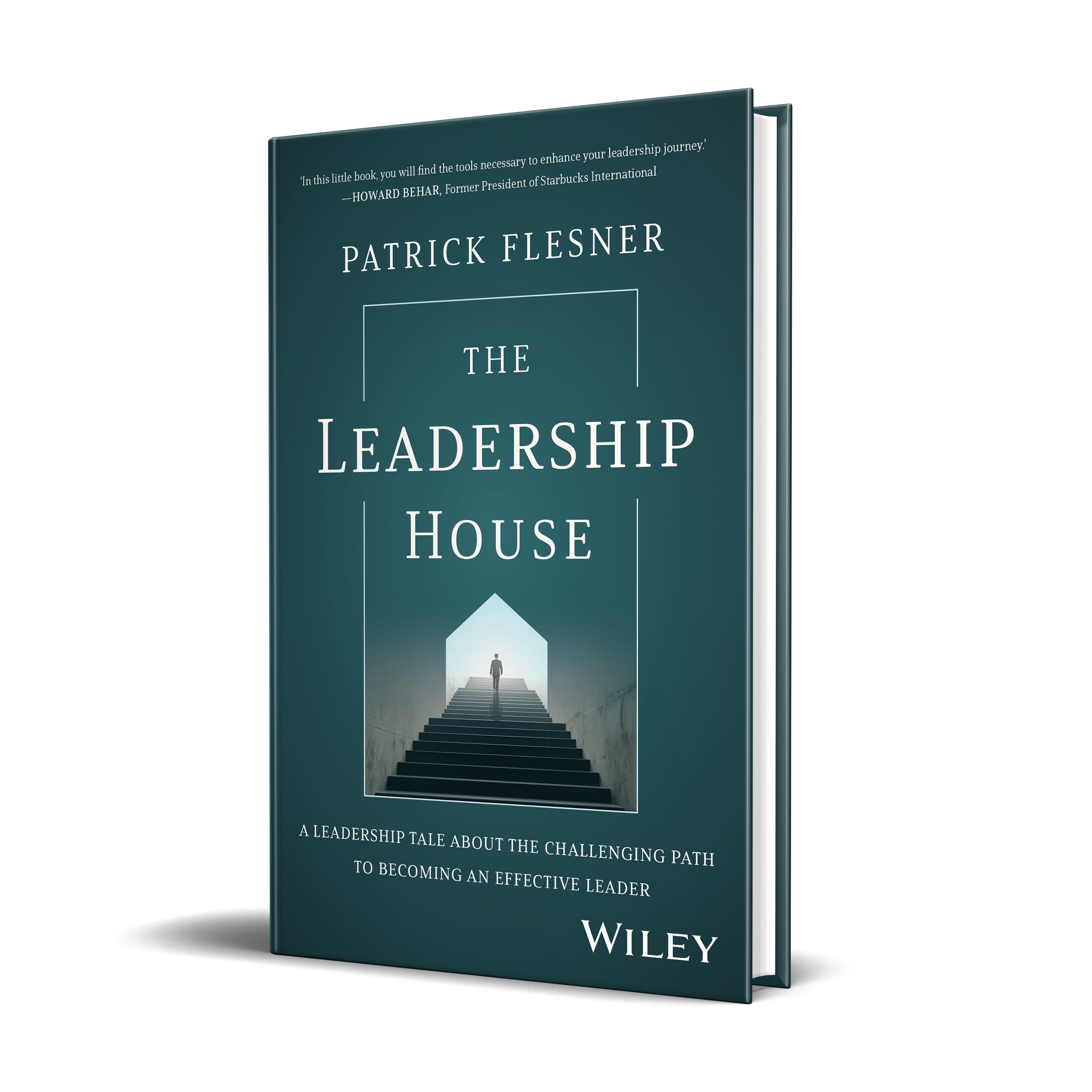 THE LEADERSHIP DEVELOPMENT FRAMEWORK
If you're like many of the founders, entrepreneurs, and managers Patrick has been working with or interviewed for this leadership book, you'll agree that becoming an effective leader is a daunting task. It's difficult because the leadership advice you get is often fragmented. You read that you're supposed to inspire, trust, and empower. You hear that the best leaders show their vulnerability, and that they're humble and strong at the same time. While all this may be true and is actually great advice, it's often not leadership advice you can translate into action every day. Leadership advice usually comes in a piecemeal fashion, which is frustrating. As soon as you're back in the trenches, you feel overwhelmed and don't how to lead effectively.

The goal of this leadership book is to provide you with leadership insights and a leadership development framework you can apply in your leadership role, day in and day out.
Patrick delivers both virtual presentations and in-person leadership keynotes. He is uniquely positioned to inspire leadership teams and equip them with leadership frameworks they need to reach their biggest goals.
Patrick has been working in private equity, venture capital, and mergers and acquisitions for almost twenty years. He has had the pleasure of working for and with strong and highly effective leaders who've become role models. He has also worked for weak leaders who taught him how not to lead. He has been writing about leadership topics in renowned magazines like MIT Sloan Management Review and I by IMD. He is an Inc. Magazine contributor and meanwhile a thought leader in terms of leadership and growth.
Throughout the years, he has translated his leadership learnings into leadership frameworks, which has helped him to lead his teams effectively while becoming a better leader every day. As an investor, startup board member, coach, and mentor, he has been passing on these leadership frameworks to founders, entrepreneurs, managers, and leaders across the globe. The feedback has been overwhelming and has compelled him to share his leadership knowledge in The Leadership House.
For press and media related activities, speaking engagements, and general inquiries, please email: contact [at] leadingeffetively.io or use this contact form.